This was an animal walk I went it was very cool Maxine,greentracks and jaocyberguide went!
I posted here on BGF but i didn't see anyone from here
.
Isn't that collinpink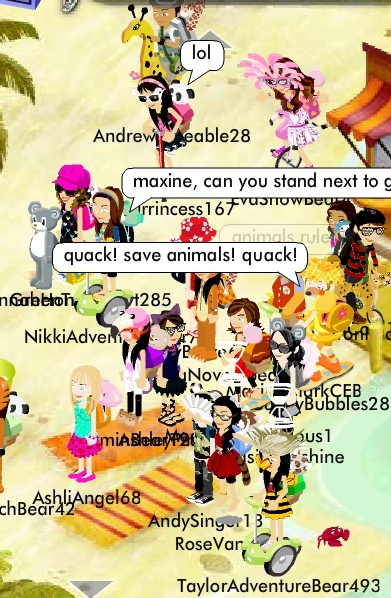 ashleypink30

BABV Events Planner






colinpink

Officer/Zoo Keeper





colinpink wrote:I was there!!! LOL
lol I saw you :lol:

ashleypink30

BABV Events Planner





wow! sooo cool! i love animal walks! looks like yall had so much fun!
yay for Maxine, jao, and greentracks

anitacocoa

Associate Bear






Awww. I wish I was there. It looks like you guys had a lot of fun.


iicuddles

Friendly Bear






Awesome! I love Animal Walks too! I would've have come but I didn't see what time it started! xD

kristylucky1

Helpful Bear






Awesome! I recognize ColinPink, Maxine, JaoCyBearGuide, Green Tracks, and you (AshleyPink30), from those pictures [from right now]. Great pictures! Very nice quality, and judging by those pictures it was a fun and funny time! ;] It must have been wonderful to be with Jao, Maxine and Green Tracks! Oh, and even all the other citizens of Build-A-Bearville! (; Thanks for sharing!

JeannaBearFun

BABV Events Planner






ashleypink30

BABV Events Planner





everyone had great costumes i wish i was there

xXBlackCatXx

Novice Bear







---
Permissions in this forum:
You
cannot
reply to topics in this forum