If you stare at the following picture long enough,
you should see a giraffe...
Gotcha! But the rest of these optical illusions are on the level.
If your eyes follow the movement of the rotating pink dot,
the dots will remain only one color, pink. However if you stare at the black " +" in the center, the moving dots turns to green.
Now, concentrate on the black " + " in the center of the picture. After a short period, all the pink dots will slowly disappear, and you will only see only a single green dot rotating
Now what do you see?
You may not see it at first, but the white spaces create the word OPTICAL,
while the blue landscape spells out ILLUSION.
And what do you see below?
This one is quite tricky! The word TEACH reflects as LEARN.
what do you see?
You probably read the word ME in brown, but.......
when you look through ME
you will see YOU!
The following pictures are NOT animated
Your eyes are making them move. To test this, stare at one spot in each picture for a few seconds and everything will stop moving; OR look at the black center of each circle in the first picture, and it will stop moving; but when you move your eyes to the next black center, the previous one will move after you take your eyes away from it.
And here is another type of illusion.
Count the people in the picture below.
After they shift, count them again!
When you look at this picture close range you see Albert Einstein.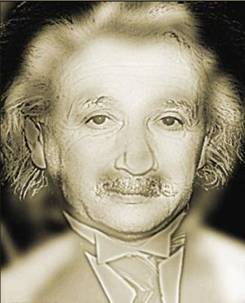 Now stand up and take several steps back, roughly 15 feet away,
It will become... Marilyn Monroe.
hope i didn't make your eyes hurt

barbie6

Friendly Bear






Ahh cool
I love optical illusions~
They're fun!
The first one was really neat, how the pink dots disappeared. I thought it was cool
But I don't think the ones you say aren't animated are real. Sure, they stop moving when you stare at one spot, but they're saved as GIF's and just don't seem real to me.

Cheer

Events Planner/Superstar





wow they're really cool!
we had to make some optical illusions in my art class.
it's some really fun stuff.
thanks fur sharing!

Daize

Guide Bear






Cool!!!!!!

Anita

BABV Events Planner





wow!! so cool!!! ;D i just amazes you how much your eyes can trick you from seeing the real thing

emmie

Guide Bear






awesome lol i really like the last one

Loveablegirl

Officer





This is cool!

Admin

Founder/Owner







Noel

BABV Events Planner





---
Permissions in this forum:
You
cannot
reply to topics in this forum