what is this??? it's from bearville live asking about out accounts!! is this a scam, help!!!
----------
okay, i got this email from BEARVILLE LIVE and here is the email asking for our babv accounts and passwords, i don't think this is right!! is this a SCAM??? i thought babw's email was @buildabear.com this is scaring me!! should I???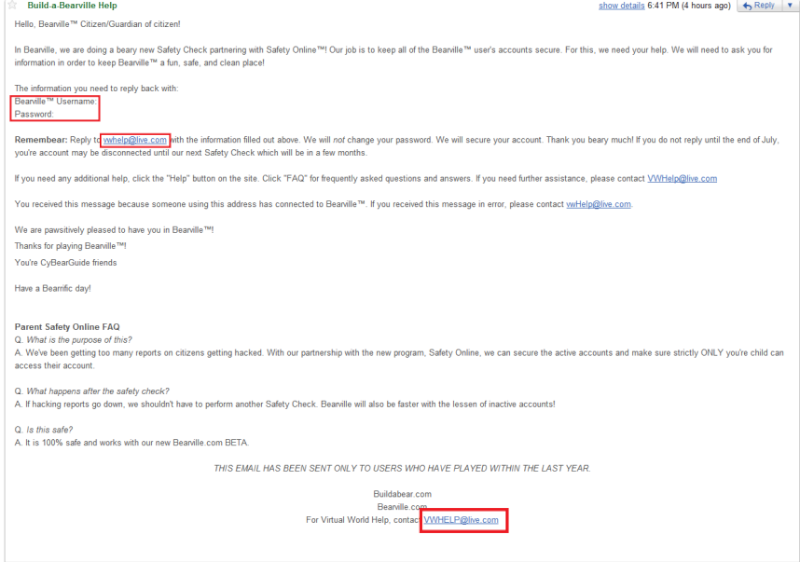 emmie

Guide Bear






I got your PM, and please do NOT reply to the email. This is a scam, the only valid email addresses from Build-A-Bear have the "
youremail
@buildabear.com
". Thanks for reporting this.

Bear

Officer





And no one at Build-A-Bear or Build-A-Bearville would EVER ask for your password. Please don't ever give out your passwords!

MamaNoodles

Director Bear






thank you so much guys!!! i feel much better about this, and will pass the news around so nobody gets scammed

emmie

Guide Bear






This is a scam email that has been circling for quite a while now. NO reputable site would ask you for your password! Think about it - when you ask for assistance from VWhelp, do they ever ask for your password? The answer is NO because they don't need your password to access your account.

Good job of asking for clarification on this before responding. As always - when in doubt, stay away from it!

karenbearhug

Officer





Thanks for sharing this, I'll know to mark this as spam!

AleciaAutumn10

Officer






---
Permissions in this forum:
You
cannot
reply to topics in this forum