Have you been to the town square today? if you havent you better go! and recieve a hamburger hat from bearemy in honour of labor day!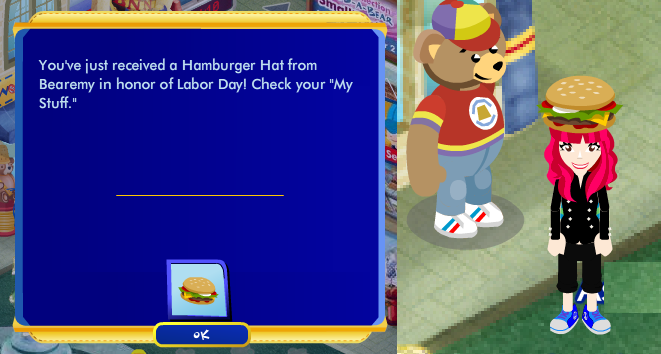 HeatherHeart

Helpful Bear






I got that the other day!!!!!then earlier i got one through a trade. so then i had two. then i gave on to chuck!!! because he was sad he didn't have one... then he gave ma an awesome shirt for it, so now we're both happy! yay! the funny thing is, it's a cheeseburger, not hamburger, hahaah, ps, i like your hair

sandyverybeary3

Helpful Bear






Thanks! I like my hair too!
and umm its a hamburger
it even says so in the picture

HeatherHeart

Helpful Bear







muffinatormanic

Forum Assist





ph, when you roll over it in your inventory, it says cheese burger hat

sandyverybeary3

Helpful Bear






Thank you, Heather. It was very nice of you to share with us this wonderful news with all of us. I'm sure there were many members out there who were wondering what special gift Bearemy was giving out on this special occasion of Labor Day. Not only was it generous of you to inform us of the Hamburger Hat being given out, but also sharing with us various photos of receiving the Hamburger Hat and what it looks like on. Thanks again! [=

BasketballLuver

Helpful Bear







---
Permissions in this forum:
You
cannot
reply to topics in this forum